WELCOME
We Look Forward to Welcoming you to Stay Safely with us.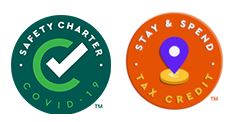 Due to the latest Government announcement, from midnight 21st October, we will move to Level 5 on the Plan for Living with Covid-19.   It is with a very heavy heart that we must temporarily close our doors for a six-week period. 
We would like to thank you, our valued Guests, for all of the support you have given us since we reopened our doors and to our amazing Team for all of their hard work and dedication over the last number of months. It is our priority at present to contact all of our Guests and our Wedding Couples who have booked with us over this period and to assist with rescheduling. While we go through this process we thank you kindly for your patience. If you have any queries please do not hesitate to contact us. Our phone lines will remain open daily and you can also email our team on reservations@mountwolseley.ie We are on hand to assist with future festive package bookings and voucher sales over the period of this closure.
Once it is safe to do so we very much look forward to welcoming you back to Mount Wolseley Hotel, Spa & Golf Resort. In the meantime stay safe and take good care of each other.
The Team at Mount Wolseley Hotel, Spa & Golf Resort.
~
Mount Wolseley Hotel Spa & Golf Resort are delighted to be taking part in the "Stay and Spend" Scheme, which means guests who stay between October 2020 to March 2021 will be entitled to a Tax Rebate of up to 20pc of your spend.
---
Unbeatable Seasonal Offers Available ~ All Boxes Ticked for your Great Escape to the country ~ Serene, Spacious & Safe
Note Our Flexible Cancellation Policy & Early Booking Offers
---
MOUNT WOLSELEY HOTEL, SPA & GOLF RESORT
SET IN THE TRANQUIL ROLLING COUNTRYSIDE OF TULLOW, CO. CARLOW
IS A JEWEL IN THE CROWN OF IRELAND'S LUXURY RESORTS
---
Ideally located within an hour from Dublin, Kilkenny, and Waterford this majestic Resort offers a perfect setting for all occasions. With a sweeping tree lined drive, beautiful private garden, and a tranquil lake, this magnificent Resort provides a captivating backdrop for business, leisure, and that special celebration. Complete with Championship Golf Course, the award-winning Wolseley Spa, and extensive Leisure facilities, this unique environment offers the perfect escape.
The trademark Mount Wolseley welcome transports guests into a world of relaxation. From the grand sweeping staircases, Italian marble floors and regal furnishings this beautiful Resort exudes luxury and comfort. With a self-contained Conference Suite offering flexibility for up to 800 delegates, Mount Wolseley has become a renowned location for corporate conferences and high-profile national events. Flawless service offered with care and courtesy makes staying at Mount Wolseley Hotel, Spa & Golf Resort a truly unforgettable experience, hence our guests returning time and time again. This unique environment coupled with an extensive range of facilities enables this regal property to offer the complete experience to all of its guests.  
---
"A world away and yet so close "
---
OFFERS
Mount Wolseley Hotel, Spa & Golf Resort
THE RESORT
ROOMS
With 143 beautifully appointed bedrooms, all needs are perfectly catered for.
SPA
The renowned Wolseley Spa at Mount Wolseley Hotel, Spa & Golf Resort, Tullow Co Carlow is a glorious world away.
GOLF
The magnificent Golf Course at Mount Wolseley is firmly established as one of Ireland's premier Parkland Courses.
WEDDINGS AT MOUNT WOLSELEY
For a truly unforgettable wedding where dreams are brought to life - the search is over.
CONFERENCES & EVENTS
An extensive purpose build conference facility, offering 14 flexible meeting rooms catering for up to 800 delegates theatre style and 500 for a banquet.
Aenean massa. Cum sociis natoque penatib
Aenean massa. Cum sociis natoque penatib
Aenean massa. Cum sociis natoque penatibus et magnis dis parturient montes, nascetur ridiculus mus. Donec quam felis, ultricies nec, pellentesque eu, pretium quis, sem. Nulla consequat massa quis enim
RESORT HOUSES
Self-Catering Resort Houses at Mount Wolseley Hotel, Spa & Golf Resort. Offer our Guests a perfect home from home experience Relax, unwind and enjoy the beautiful surroundings.
FAQ
Frequently Asked Questions
MORE EXCLUSIVE OFFERS
Mount Wolseley Hotel, Spa & Golf Resort